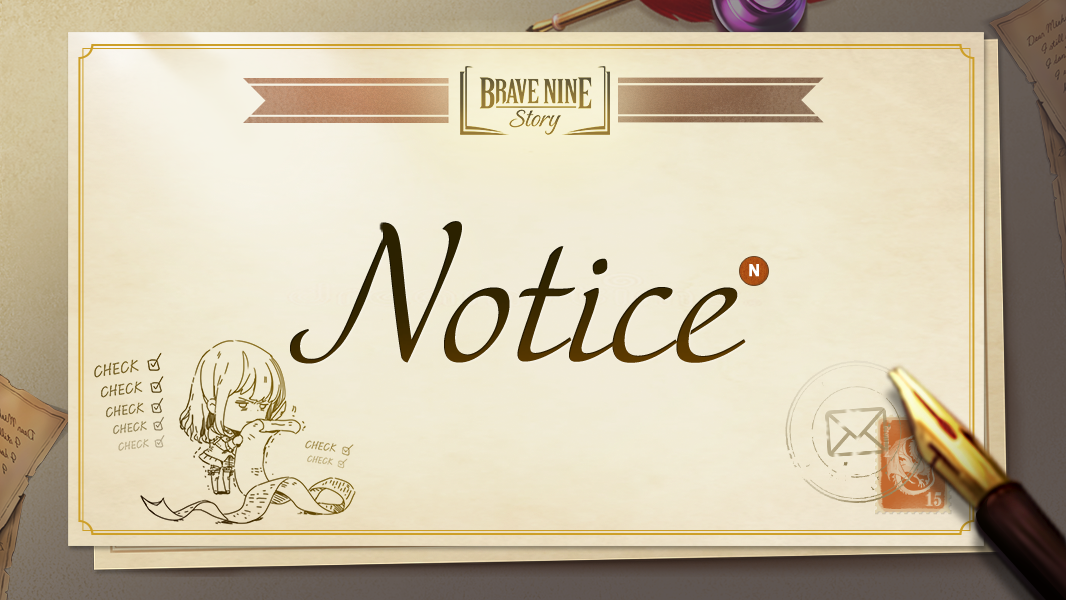 Visual Novel RPG that keeps you up all night, 'BraveNine Story'!
Hello, this is GM Lydia.
Here is a guide on how to use a coupon.
Please refer to the information below for details.
■ Coupon usage guide:
Android:
Step 1. Lobby > Tap on the [News] icon on the right side of the lobby.
Step 2. Tap [BraveNine Story Coupon] banner > Tap [Go to Coupon Page]
Step 3. Enter Army's Name and coupon code from the coupon page > Click [Submit] > Receive reward from the in-game Mailbox
* Army's Name is the user Nickname that can be found on the top left corner of the in-game lobby.
* Following steps are available only on AOS devices.
iOS:
1. Go to BraveNine Story Official Website > Click on [Coupon Page] on the Menu bar.
Reminders:
※ The same type of coupon can only be used once per account.
※ Coupon rewards will be sent to the in-game Mailbox.
※ Each coupon has an expiration date, so please check it before use.
※ Coupons cannot be sold, traded or refunded.
During the coupon event, we will inform you about the event through BraveNine Story's official SNS.
Follow our official SNS and don't miss the latest news!
- BraveNine Story Facebook: https://www.facebook.com/BraveNineStory/
- BraveNine Story Twitter: https://twitter.com/Bravenine_Story
Thank you.