Feb 13th, 2023 Maintenance Notice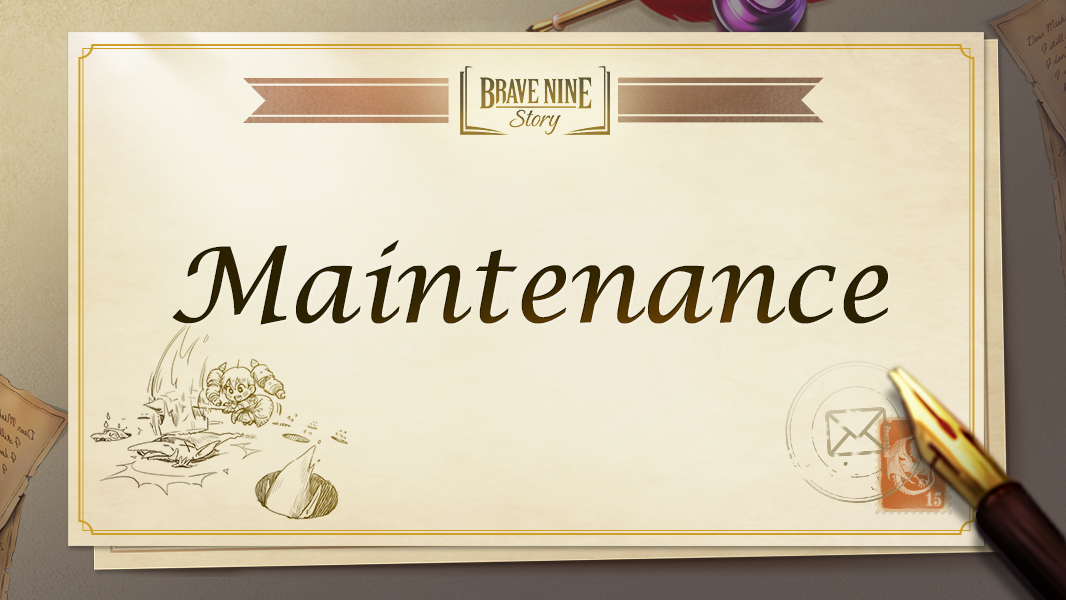 Hello. This is BraveNine Story team.
Maintenance is scheduled on Feb 13th, 2023 (KST). Please refer to the information below.
[Maintenance and Update]
■ Maintenance Time: Feb 13th, 2023 00:00 AM ~ 02:30 AM (Total 2 hours 30 mins) (KST)
■ Effect: The game is unavailable during the maintenance.
■ Details:
1) New Captains' 7-Day Mission
2) Valentine's Login Reward (Reward per log-in time)
3) Valentine's Check-in Event
4) Valentine's Costume Update
5) Costume Package
6) New Sweeping Rewards
7) Added Soul Stone Acquisition Route (Adventure Book > Very Hard)
8) Renewal and permanent opening of Substory 'That Time I Got Reassigned as a Slime Slayer'
9) Permanent Crafting Cost Discounts
10) Mercenary Balance adjustment
11) Arena Adjustment
12) Other improvements and bug fixes
[Other process]
- Arena Season 1 Reward distribution
* After the maintenance, there will be a new version update.
* Please use Wifi to download the resource file after the update since its size is large.
You can check detailed February update information from the <February 2023 Update Notes> on our official website.
We apologize for any inconvenience this may cause.
We will try our best to get the maintenance done quickly.
Thank you.